Company Profile
Penton Transport Management is a specialist Tachograph Analysis Bureau which was founded in 2000. It is a family run business managed by Julia and Andrew Murton, who are both very experienced in transport management and are holders of International Road Haulage CPC's. Based in the South East of England, Penton Transport Management has clients throughout the UK including Scotland and the North of England.
Although specialising in Tachograph Analysis, the company has a strong core of management and consultancy clients ranging from owner drivers to fleet operators with 30+ vehicles.
Penton Transport Management's core services include:-
Tachograph analysis using the latest technology (Digital and analogue)
Tachograph Rules and Regulations Training (EC 3821/85)
Working Time Directive Training
Digital Tachograph Operations Training
EU Drivers Hours Training (EC 561/06)
Operator licensing applications including major changes and operating centre reviews
Transport reviews and Systems Audits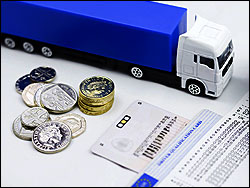 To enhance the services we provide, we have long-standing associations with providers of:
CPC Training for Transport Managers (Road Haulage & Passenger Transport)
Driver CPC Training
Driver Risk Assessment & Induction Training
LGV & PCV Driver Training
vehicle Maintenance Contractors
FORS Accreditation Services for Bronze, Silver and Gold
Specialist Transport Lawyers offering Legal Advice and also representation at Public Inquiry
We are available during office hours Monday to Friday if we can be of any assistance to your business.
Please contact us on +44 (0)1323 743663
For out of hours assistance please telephone Andy on +44 (0)7917 135313.
Penton Transport Management are agents for Stoneridge