Digital & Analogue Tachograph Analysis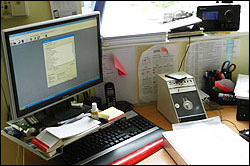 Penton Transport Management specialise in the analysis of all types of Analogue and Digital Tachographs. Our services are geared towards all Transport Operators, whether an Independent or large fleet operators in the Passenger transport and road haulage sectors.
The reports generated, following analysis of the charts or digital data, include:
Driver infringement reports (including driver letters)
Working Time Directive reports
Missing mileage reports
Missing chart reports
Vehicle Utilisation reports
Transport Managers Summary
Analogue Charts
Upon receipt of your drivers' charts, the analysis is usually completed within the week. Upon completion, the charts and all reports can either be mailed to you by recorded delivery, or we can deliver them back to you. Alternatively, the reports can be emailed to you electronically.
Where we deliver the reports and charts back to our clients personally, we go through the reports with the Transport Manager and explain the issues and offer advice and guidance on how to remedy any infringements. We are also able to go through these with you over the phone.
Digital Data
Digital data files can be supplied to us electronically via email. We will extract the data and import it directly into our software which handles all the conversion and reporting of the digital media. The results will be emailed directly back to you.
Reports - Driver
We can offer you a range of driver weekly, fortnightly or monthly based reports including:
Driver daily/weekly analysis which includes any faults, infringements and exceptions
Driver Chart Summary
Working day analysis
Driver availability and requirements
Driver weekly duty analysis
Drivers summary including drivers weekly duty summary
Driver daily fleet management reports including driving, drop analysis and Mileage reports
Reports - Vehicle
Additional reports are available to you covering your vehicles, which include:
Vehicle activity Reports
Vehicle overspeeding Reports
Vehicle weekly utilisation reports
Vehicle missing mileage reports
The reports we produce are presented to you on A4 paper and printed on laser printers. The benefits of this system result in high density, print quality and the ability to file the reports in a standard filing system.
Analysis Costs
Although you will find our pricing extremely competitive, we will advise you on the most cost effective solution to your analysis needs. Should you wish to talk to us or require a quotation please email us at info@penton-uk.com for further information.
We pride ourselves on the service we offer our clients, which includes:
Accurate, efficient and friendly Service
Digital records & paper charts analysed and returned how you wish to receive them
Competitive rates with no hidden charges
Service tailored to suit your requirements
Penton Transport Management are agents for Stoneridge