Driver Training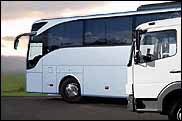 Driver training is obligatory under law and should ensure that your drivers are safe drivers and a valuable asset to your company. Penton Transport Management have been training drivers for many years, most notably within the realms of EU Drivers Hours Regulations (EC 561/06), Tachographs (EU regulation 3821/85), or as the legislation calls them 'recording equipment', and the most recent legislation that has required the need for training concerns the Road Transport Working Time Directive, which came into effect in April 2005.
Quality driver training should not be considered as yet another cost implication to the 'bottom line'. You are obliged under law to train your staff, whatever their role within your company and although there is a cost implication to all training, there are also many benefits to be had from doing so, not least, Improved Company image, Improved Fuel Efficiency, Better Carbon Footprint and Safer Drivers.
Penton Transport Management are able to offer direct training in the following areas for HGV and PSV drivers:
Digital/Analogue Tachograph Use and Records
EC Drivers' Hours Regulations
First Use Inspection/Maintenance Checks
Additional Driver Training
We are well aware that there is more to driver training than Tachographs and Drivers' Hours records, therefore to support our clients with the many additional training requirements, we have formed close associations with training providers able to offer the quality training services that compliment our professional standards. Subsequently, we are able to offer the following services via our associates for HGV and PSV, including:-
Driver CPC Periodic Training
LGV Licence Acquisition Training
Occupational Road Risk Assessment
Driver Assessment and Corrective Training
Vehicle Upgrade Inductions
Hazard Perception and Theory Training
Women Drivers at Work Safety Workshop
Health & Safety Training
Roadside Checks - Tachograph Offences
Prior to April 2015, if one of your drivers was stopped in a DVSA Roadside Check, fixed penalties could only be imposed in relation to offences which were being, or had been, committed on the occasion of detection. In other words, the offence needed to be committed at the time or immediately before the driver was stopped at the roadside. However, that situation changed in April 2015.
Following consultation, the Department for Transport (DfT) supplemented the legislation to permit historic driversí hours offences (for example where a chart from the previous week shows a daily rest infringement), it would be included in the Graduated Fixed Penalty Scheme. In fact the historical element of this action now goes back 28 days from the date the driver is stopped, with all offences found falling within the scheme and allowing the DVSA to issue the relevant GFPN or, if serious enough, to take matters further in a court of law.
Taking into consideration the two paragraphs above, training could potentially become a key element in an operator retaining their operator licence at a public inquiry.